It's amazing how trends from different era's always seem to find there way back in the present time. From head scarves, to the 80's fave - scrunchies, and headbands it is definitely safe to say that hair accessories are going nowhere for the next little while. Whether you are already on board or have yet to be convinced, I've put together some of the most loved accessories that I've seen this year! And don't fret, if you're not a big fan of the scrunchie (which I know some of you are) there are plenty of other chic options for you to choose from!
 If I am being completely honest here, the last time I dare wore a headband was back in elementary school. You know those zig zag headbands that you can get from the dollar store? Oh yeah I rocked those bad boys like no tomorrow! But as I said earlier, everything comes back around even when we thought it was the most hideous thing we've set our eyes on. That zig zag headband? We've seen it on the runway! Leopard print on headbands have taken a big spot on 2019's best hair look. Whatever the hair colour, whatever the hair length this suits all and we are so on board with it... even myself! 
The girls in the left picture are sporting our leopard twist front silk headband.
click h e r e  to shop
When I think of scrunchies, D.J. Tanner from full house comes to mind. That super cute high side tail look was classic and a style that I always wished I could pull off. Nowadays the accessory can be found almost anywhere and can even be spotted on the runway as a well performing hair style! From people in the office to beauty influencers, the scrunchie has definitely taken its place this year as one of the cutest and most used hair accessory!
click h e r e to shop our variety of scrunchies 
 Head scarves are such a rad piece to accessorise with and has been a a hot trend this year. Aside from getting fashion points this look doubles up as protection for your hair especially during the summer time. There's no better way to look effortlessly chic and have something super practical as well! A common way to style this is called the bandana tie which is when you t
ake a square scarf, fold it diagonally in half and tie it over your hair tucking the centre corner inside. I remember my sister styling her hair like this back when she was in high school - I loved it then and I love it now!
These gals in the pictures above are giving me bad ass babe meets Rosie The Riveter vibes.
O b s e s s e d !
*insert fire emoji* 
Okay okay... before these cute and trendy clips came about, the only clips I ever wore before were the 90's snap clips! The extremely cheap ones that came in adorable prints but peeled off the metal after only a few wears... so you ended up wearing them in its silver metal goodness. High-five if that was you too! 2019 really stepped it up this time around with different designs from pearl, marble and even slogan clips! 
Gabby is rockin' our pink acrylic marble barrette in the right picture above
click h e r e to shop our selection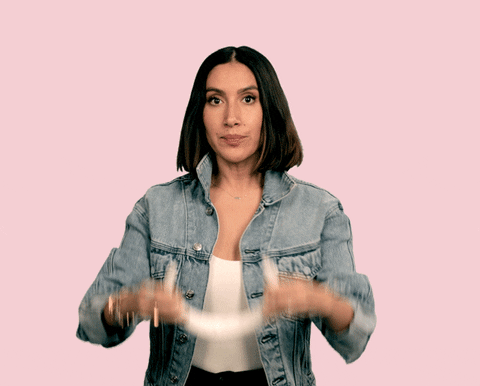 So as Jen Atkin once said,
"My influence came from seeing how a great haircut or hairstyle can change a persons persona and sometimes life." 
So, get to shopping your fave trends and who knows... your life might change for the better! 
C A L L I N G A L L B A B E S !
Want to learn more from one of our experts or special guests?
Join us on November 6th at our Downtown Zennkai location from 4PM - 8PM to learn everything you need to know about skin and hair! Tickets are only $25 and are redeemable for product - oh, and you also get a swag bag valued at over $50!