L'Oreal Professionel's SteamPod 3.0 is the 3rd generation of the straightening iron that uses patented steam technology to smooth & straighten the hair. This professional styler includes a water tank & in addition to simple heat, hair is smoothed & straightened with the help of steam that is delivered through the device's nozzles. The integrated comb helps to distribute the hair evenly through the ceramic plates.
Compared to regular flat irons, the SteamPod 3.0 will straighten your hair 2x faster & leave your hair 2x smoother with up to 78% less damage! Steam technology is much more gentle on the hair, leaving the hair fibre & colour protected, with frizz control & shine!
The SteamPod 3.0 has three different heat settings from 180°C-210°C to suit your individual hair needs, & can be used with any hair type, even frizzy & curly hair leaving a smooth, shiny, velvet-like effect!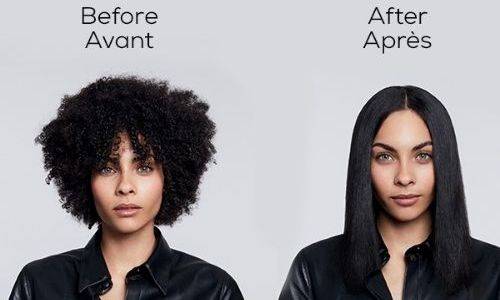 Compared to the 2.0 model, the SteamPod 3.0 is a lighter & thinner design with an extra-long 360° rotating cord, making it easy to achieve all different styles including curls & waves.
The SteamPod 3.0 now comes with an integrated water tank, holding enough water for your styling needs without having to refill. This new, smaller integrated tank makes it much more convenient for handling & travelling (when we are finally able to again!)
• Use on dry hair only!
• Insert water into the water tank.
• Choose the temperature according to your hair type: no need to over heat! SteamPod offers better straightening results at a 50° lower temperature than your average hot tool!
• Place the strand of hair in the middle of the plates and make sure the arrows are pointing down while styling. Move the tool slowly to get the best results.
WANT EVEN BETTER RESULTS?
L'Oreal Professionel advises using Steampod 3.0 with our stylist-recommended SteamPod products to reinforce the benefits. The SteamPod routine ensures optimal fiber protection, up to 24h anti-frizz & maximum smoothing for soft, shiny hair! Check out our Steampod bundles below that include these products!
• Steam-Activated Cream for normal to thick/sensitized hair
• Steam-Activated Milk for fine hair
• Ends-Protecting Serum for all hair types as a final post-SteamPod touch